This was OHHHHHH so fun to do! Though, it wasn't until the next day that I realized the red did indeed, stain my skin a tad. I would definitely reccomend possibly putting a layer of your own cream foundation down first to act as a slight barrier against the red. But Halloween is only 1 day a year, so I'm all for going all out in the makeup department! I made some horns just for the video, but definitely invest in the prosthetic horns, or the headband kind, whatever you prefer.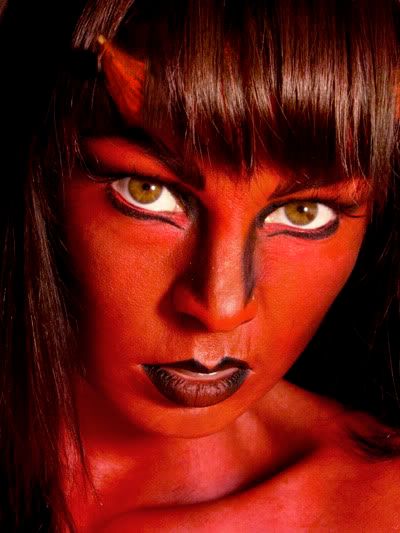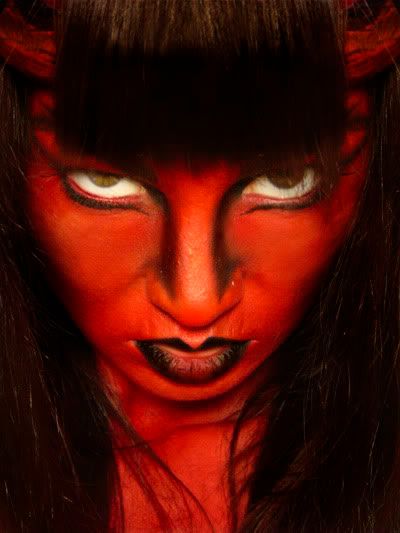 -Make sure to buff your powder in!!! I didn't notice it until after I took it off, but you can see it in the photo AND in the video.
-Yes I used photoshop to make my horns symmetrical in the photo. :)
Products Used:
Face and Body Mixing Medium (MAC)
Basic Red Pigment (MAC)
Panic Blush (Illamasqua)
Carbon Eyeshadow (MAC)
Smolder eyeliner (MAC)
Black Gel Liner (Loreal HIP)
MUFE HD Powder
Russian Red Lipstick (MAC)
Garnet Lipliner (MAC)
This took me 30 minutes remove. I used Olive Oil which will remove any makeup - waterproof or not and is actually good for your skin. I also used sugar as an exfoliant to scrub everything off quicker.